From the President's Desk
TO ALL HANDS,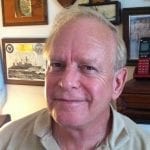 Philadelphia turned out to be a great opportunity for Yosemite Sailors and their families to unite and share all those special moments we had on a ship that was in service for 50 Years. The Valley Forge Casino Hotel / Radisson Hotel was spacious with wonderful rooms and an overall really nice atmosphere. For those that have an affection for Gambling it was all there. It was clean and safe and the right kind of place to let your guard down and have fun. We were in what they called the "Philadelphia Corridor".
All of our meeting spaces were steps away from the Hospitality Room. We had a Hospitality Room that was stocked with food and drinks and just prior to 5:00 PM each day 5-6 hot Pizzas arrived to support those that wanted supper with the group. We enjoyed a Contentinal Breakfast each morning. The hotel was very supportive of our group and their patrons were as well. Some of our members were treated by guests to drinks at the bar and others were treated to dinner. For those that wanted to dine in one of the 5 or more Hotel Restaurants, they provided a 20% off the tab card that was good everyplace and could be used for the entire period as many times as you wanted.
While most patronized our Hospitality Room…it was nice to have some Asian food or just a good Burger. Very rarely do you find Hotel Management going out of their way to help you spend your money wisely and assure you get the most bang for the buck. Our Hotel Conference Services Manager (Barbara Forgash) and the Senior Sales Manager (Penny Blumenthal) were instrumental in helping us have a cost-effective Reunion with money well spent. We had a very successful Banquet dinner followed by our normal raffle that allowed our guests to take home treasures from other members. Some of the items were really unique and a good time was had by all.
So for those that missed this event, we too missed having you with us. I know we had some communication issues and not everyone got details on our event in time to properly plan to be with us. Additionally many had last minute medical & family issues that precluded you from being with us.
As always, please check the website often for updates.
Respectfully,
William C. Krug III
President USS Yosemite Association