USS Yosemite 1957 was published by Woody's Words
This article originally appeared in our previous USS Yosemite Association website. It's now republished for your reading pleasure on our new website.
 USS YOSEMITE  –  1957
My first shipboard duty was aboard the destroyer tender USS YOSEMITE (AD-19), homeported at the Newport, Rhode Island, Naval Base.  YOSEMITE was the flagship of the Commander Destroyer Force, U. S. Atlantic Fleet (COMDESLANT).  I reported aboard in the summer of 1957.
A tender is a support (or "mother") ship the size of a smallish ocean passenger liner.  It contains dozens of shops to do repair and maintenance work on the equipment and weapons used aboard destroyers (there are also submarine tenders), ranging from heavy machine shops to shops that service delicate optical and electronic systems.  It can provide temporary berthing and messing for the crews of destroyers that are undergoing work that has their own galleys and berthing compartments in disarray and also provide medical and dental care to destroyer crews, because those ships, unlike larger vessels, don't carry doctors or dentists.
In peacetime, tenders spend most of their time tied up to a pier, with a few to several destroyers tied up alongside or nearby at the same pier.  YOSEMITE left its berth at Destroyer Pier Two so seldom that it was mockingly referred to on the base as "Building 19."  Tied up at Destroyer Pier One, a couple hundred yards away, was another tender, USS CASCADE (AD-16).  A sailor could sometimes spend a year or more aboard YOSEMITE or CASCADE without ever going to sea.
The living conditions for enlisted men (there were no female crew members in that era) aboard Navy ships in the 1950s were very different from those aboard ships built or modernized since the 1960s.  The berthing compartment on YOSEMITE housing the enlisted men assigned to COMDESLANT staff had less square footage than a small one-bedroom house and contained about 80 bunks (or "racks") in stacks up to six or seven high.
A rack consisted of a rectangular aluminum frame a little over two feet wide and about six feet long.  Within the frame a sheet of canvas was held in place by a lacing of small rope that went through grommet holes along the edges of the canvas and wound around the aluminum tubing.  It was important to have the lacing pulled very tight so the canvas wouldn't sag too much when you lay on it.  If it did, you'd get kneed in the butt by the man below you every time he turned over.  A mattress, or more accurately a pad, about two to three inches thick, enclosed in a mattress cover (commonly referred to as a "fart sack") went on the canvas to complete the enlisted man's bed.  There were no privacy curtains or reading lights as found on modern ships.  His rack and his locker, about 24 X 24 inches and 18 inches deep, constituted the entire personal space of an enlisted man on a Navy ship at that time.  Conditions were somewhat better in the chief petty officers' compartment.
The latrine, called a "head" in the Navy, featured a metal trough about 30 feet long with water flowing in at each end and draining out in the middle.  Across this trough there was a series of black wooden slats in pairs, held in place by metal clips that fit over the edges of the trough.  This arrangement was inelegant but workable, as long as the ship was at the pier or on smooth seas.  When the sea got rough, a common condition in the North Atlantic, it became difficult to remain seated.  When your butt moved around, the slats had a tendency to push apart, dropping your butt into the icy flowing sea water.  I know whereof I speak.
The urinals and sinks were also metal, small and jammed close together.  Your morning shave or bladder emptying involved rubbing elbows with your shipmates.  The shower was a metal-walled room with nozzles every few feet all around.  Modesty was a luxury not afforded to enlisted men.
The COMDESLANT Public Information Office (PIO) was located in a former 20mm ammunition locker on the boat deck, four decks above main deck.  It was just large enough to accommodate three typical shipboard metal desks, each about four feet wide, end to end with an inch or two between one desk and the next.  There was just enough room beyond the third desk for a filing cabinet.  Shelves on the bulkhead (wall) opposite the desks held a few office supplies and some cameras and photo supplies.  When someone pushed back his chair at one of the desks to stand up, he had to be careful not to bang his head or back on the shelves.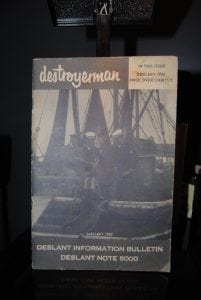 Three men could be typing or doing something else at the desks while a fourth worked at the filing cabinet.  We had 10 to 12 journalists assigned to the office (the number varied from time to time as people came and went).  In office space over on the base were two men who produced Destroyerman Magazine.  We usually had one or two men helping out in the photo lab, leaving two to four men hovering outside the door waiting for a turn at a typewriter.  Strangely enough, it worked.  We had some skilled and talented guys (several were college grads) and we turned out a lot of quality work.
About half of our PIO gang were New Yorkers.  They always wanted to get home on weekends.  The problem for them was that we'd get two weekends with both Saturday and Sunday off and then the next with only Saturday off and then only Sunday off.  One day wasn't enough time to go home to New York so those guys were always wanting someone to trade a weekday duty day (when it was required to remain aboard all night) for a weekend duty day, with an inducement of a few dollars.  Many times someone would take the cash and the weekend duty but other times nobody would.  This would cause some pouting and  whining.
Still, the PIO gang was a good bunch of guys, with an exception from time to time as people came and went.  But we were not viewed favorably by many of the ship's crew and even by other COMDESLANT personnel.  They considered us a lot of hothouse pansies who lived a privileged existence, which was true to a limited extent.  Our standing wasn't improved by a rather arrogant attitude of some of our guys, especially the Ivy Leaguers, toward the men they temporarily had to live among.
One aspect of duty at Destroyer Force headquarters that I especially liked was the numerous opportunities to go to sea for short periods, from a few days to a few weeks.  I had become enamored of ships and the sea as a child during World War II when I saw at the movies scenes of cruisers and battleships plowing through the sea, pushing up foamy bow waves and leaving wide silvery wakes behind.
The destroyers homeported at Newport frequently got underway (between months-long deployments to the Mediterranean) for various reasons.  It might be an orientation cruise for visiting senior officers from any of the service branches, or civilian officials or politicians.  Or it might be to test newly installed or repaired equipment or for crew training.  Destroyers from Newport and submarines from New London, Connecticut, would carry out cat-and-mouse exercises to provide training for crews of both ships.
On many of these cruises a photojournalist from COMDESLANT PIO would go along to record events for news releases and/or for the historical record.  I was always quick to volunteer and most often had no competition because most of the  journalists were content to sit on the flagship tied to the pier and go ashore on liberty three nights out of four.
A particularly memorable event involved a large civilian freighter that ran aground on rocks at the entrance to Narragansett Bay.  There was concern that the ship would break in two and one or both halves would sink in the entrance channel, posing a hazard to the passage of our destroyers.  The Navy dispatched a salvage tug to the scene and additional crewmen with portable pumps from a destroyer standing by offshore.
The officer in charge of the salvage operations requested a photographer to record the salvage work, both for purposes of "lessons learned" later and also in the event any kind of litigation might arise.  Normally, one of the photographer's mates from YOSEMITE's photo lab would have been dispatched but it was late in the day and none of them could be located quickly.  Being in the right place at the right time, I found myself on a harbor tug with my camera bag, heading out to the freighter.
After photographing activities on the main deck, I was tied into a kind of rope harness and lowered into the hold of the freighter at the point where the hull was breached.  When my feet were almost touching the water in the hold I hollered up to stop lowering.  I could hear water gurgling as it washed in and out through an opening in the side of the hull.  As my eyes became adjusted to the dim light I could see where the hull had cracked open.  I got myself turned to face the opening so I could aim my bulky 4×5 Speed Graphic camera at the damage.  I took several shots and hollered to be pulled up.
Back at the YOSEMITE photo lab I "souped" (developed) my film and made 8×10 prints.  When I saw the images come up on the prints, much more detail could be seen, because of the flash I had used, than I had been able to see in the dark hold.  The situation had been more dangerous than I had realized at the time  I was dangling in the hold (the freighter did ultimately break in two).  I was more scared in the photo lab than I had been on the ship.
In 1960 a decision was made in Washington to send a Navy ship to Europe in the summer for a series of goodwill (show-the-flag) port visits.  The Navy Department chose to send a destroyer from Newport.  This would be a dream cruise, just sailing from one great liberty port to another with no operating time at sea between ports of call.  I lobbied hard to be the photojournalist to go along (this time I had competition) and was rewarded.
During a cruise that turned out even better than anticipated, we made visits to:  Portsmouth, England; Kiel, Germany; Gothenburg and Stockholm, Sweden; Helsinki, Finland (where I became a life-long admirer of the Finnish people); Ostend, Belgium; Rotterdam, Holland; Brest, France; Portsmouth again and then Cowes (on the Isle of Wight) and Penzance, England; Lisbon, Portugal; and Gibraltar.  The only disappointment of the cruise was that our scheduled visit to Leningrad, Russia (as the first American Navy ship to visit since before WWII) was cancelled because of the diplomatic fracas ensuing from the shootdown of Gary Francis Powers' U-2 spy plane over Russia.  It was one of the best summers of my life.
The years at Newport – interrupted by a very enjoyable year at the Military Sea Transport Service, Atlantic Area (MSTSLANT) headquarters at the Brooklyn Army Terminal in New York City – were filled with interesting and sometimes exciting events, including a hurricane, a couple blizzards, one of our destroyers running aground in Narragansett Bay in a heavy fog, for example, and entering a marriage that lasted 42 years, until my wife's death in 2004. I photographed more cabinet officers, three- and four-star admirals and generals, Congressmen and foreign officers and dignitaries than I can remember.  Also included were several movie and recording stars, movie director John Ford (a rear admiral in the Naval Reserve) and Fleet Admiral Chester Nimitz who commanded the U. S. Pacific Fleet during World War II.  All in all, it was a good tour of duty.