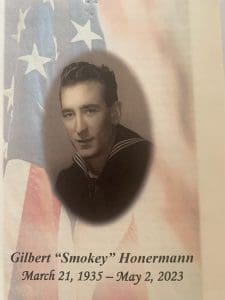 Gilbert B. "Smokey" Honermann passed away Tuesday, May 2nd, 2023, peacefully at The Homestead of Rochester, with family by his side from COVID complications/Lewy-Body dementia.
Gilbert Honermann was born March 21, 1935, in Adrian, MN, the son of William and Susan (Schutz) Honermann. He attended schools in Adrian and graduated from Boys Town in Omaha, Nebraska in 1952. On August 4, 1962, he married the love of his life, Betty Bruehling in Chippewa Falls, Wisconsin. Over the years, he attended many reunions and trips to Boys Town with his family and brother Victor's family. Most recently, he could attend his 70th Class Reunion in the summer of 2022.
He was employed at IBM in Rochester from 1960 until his retirement in 1991, then continued to work there until he fully retired after 44 years of employment. He was also employed at Creative Expressions framing shop where he met many lifelong friends. He was a member of the IBM Retirees Club, IBM Quarter Century Club, St. Francis Church, Donut Sunday, Eucharistic Minister and active in the Befriender Program at St. Francis.
Smokey served and was active in the U.S. Navy from 1956-1960. In the USS Yosemite Association, Smokey served as the Association's  Secretary, Treasurer, and Historian and was in charge of the USS Yosemite's Ship's Store. For many years, he edited his ship's Navy Quarterly Newsletter. He enjoyed planning and attending many USS Yosemite Reunions with his wife throughout the U.S. for 20 years.
He is survived by his son, Paul Honermann of Alazeppa, MN, and daughter, Jane  Sonnabend of Rochester, MN; Six grandchildren: Mercy, Elijah, Haven Honermann, Samuel, Nicholas & Andrew Sonnabend; and many nieces and nephews. He is survived by one brother, Victor Honermann of Mitchell, SD. Smokey is preceded in death by his wife Betty; his parents; two sisters, Dorothy and Sister Victorine; and two brothers Clarence & LeRoy.
The family wishes to say thank you to the staff at The Homestead of Rochester Memory Care, Mayo Hospice, and the many years of Visiting Angels care.
Memorials are preferred to Boys Town in Omaha, Nebraska or written directly to a family member.