Our Scholarship Program
Please note: our Scholarship Program for 2018 have been withdrawn due to the reallocation of funds.
No Scholarship will be awarded in 2018. We have suspended our Scholarship Program for 2018.
Thank you for your understanding.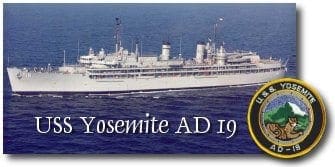 The USS Yosemite Association is pleased to announce our $500 Scholarship Award given annually to high school seniors. The purpose of our Scholarship Program is to help Scholarship Winners with out-of-pocket expenses for starting college, technical or trade school.
Our new Scholarship Program is entirely submitted online for each applicant and must be completed by April 1. Our USS Yosemite Association Scholarship Committee will select a new recipient each year for this award.
The $500 check for this annual Scholarship Program will be disbursed to the recipient upon proof of enrollment at a college, technical school or trade school.
The selected recipient will be notified by June 1st.
Eligible Applicants Must:
Be related to a USS Yosemite Association Member
Be a High School Senior
Intend to start College, Technical or Trade School within the next 12 months
Have participated in extracurricular activities and community services
Have C+ or higher Cumulative Grade Point Average (2.5 or above on a 4.0 scale for 1st semester of 12th Grade
Cumulative Grade Point Average
Applicant must provide an official copy of their  High School Transcript (must include the 12th Grade 1st Semester grades) to verify proof of their grades.
Scholarship Essay
Volunteering has been an important part of our American Heritage that dates back to colonial times with barn-raising and to our first settlers, such as the Pilgrims, to be able to survive in a new harsh environment after their arrival. We feel the greatest act of  Volunteering is joining our military, as many of our Association Members did as far back as WWII.
In a nutshell, Volunteering is participating to fulfill a worthy mission by exerting personal efforts.  As a volunteer, part of the fun is collaborating as a team with camaraderie to achieve results.  Volunteering can be very rewarding with feelings of accomplishments for a greater cause outside yourself. This is the primary reason why USS Yosemite was so effective and why the crew remains connected as shipmates through the years.
Today, Volunteering is a prerequisite of graduating for most high schools. Our Scholarship Committee has chosen Volunteering as an essay topic. We are interested in how our scholarship applicants think and feel about Volunteering and their experiences with Volunteering.
Hence, we would like the applicant to write an essay of a minimum of 500 words of  "How American volunteerism has impacted our country".
Record of the Applicant's Volunteer Service
Between the 9th Grade to Present Provide the Following:
The name of each Charity, Service Organization, Community Group, etc that applicant volunteered
A brief description of what the applicant did for each organization
Total volunteer hours for each activity per each organization
A contact name & telephone number of each organization the applicant performed volunteer efforts (If the applicant is unsure about a volunteer activity being eligible, please list it and the Scholarship Committee will evaluate it and determine its merit.)
Complete the online Scholarship Application Form by applicant and parent/guardian
Complete Appraisal of Scholarship Applicant Form by High School  Counselor, Advisor, Teacher or Volunteer Activity Supervisor
For further information and to ask questions about our Scholarship Program, please contact Wendy Krug  wendy@ussyosemite.net
.