2020 USS Reunion Details and Signup Procedure
Bill Krug has devised anew  Reunion Newsletter with detail information about the 2020 USS Yosemite Reunion is Jacksonville, Florida and also with a Registration Form for our event scheduled for 29 Apirl through 3 May 2020. To signup, please complete the our registration form, see instructions and link below.
To read our Reunion Newsletter, click thed screenshot of the document below or  2020 USS Yosemite Reunion Newsletter.
Click on the 2020 USS Yosemite Reunion Registration Form to download the form.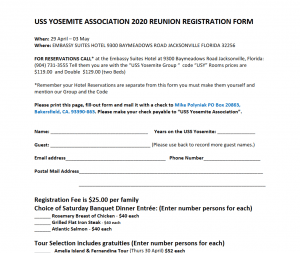 Print the registration form
Complete the registration form
Make a check payable to "USS Yosemite Association" for the total amount for: Registration fees, Banquet Dinner fees, and Tours fees
Mail your check and completed registration form to:
Mike Polyniak, USS Yosemite Association Treasurer
PO Box 20863
Bakersfield, CA 93390-0863