Bill Krug's USS Yosemite President's January Letter
To read about our plans for the 2019 Reunion, click on the President's January Letter regarding the USS Yosemite 2019 Reunion: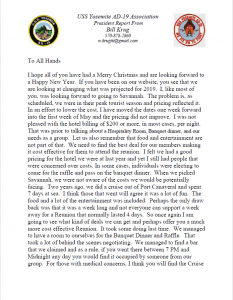 Shipmates
President Bill Krug requested that I send this letter to all of you concerning out 2019 Reunion. Please read it carefully and reply to me as soon as you can. Please contact me before January 18th if you are planning to attend the 2019 Reunion.
As noted I the letter, I can be reached on my cell phone at (920) 960-8579 or email me at ajkoepke1@gmail.com
I hope to hear from you soon.
Alan Koepke
Yosemite Association Secretary